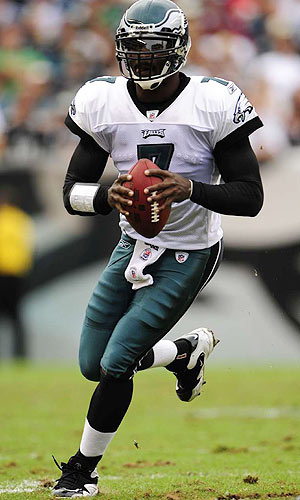 Another Philadelphia Eagles player has made the NFL Network's list of the top 100 players of 2012. But like teammates DeSean Jackson and Nnamdi Asomugha, named earlier in the list, this player saw a major in drop in where his name appeared.
Quarterback Mike Vick was named the 20th best player in the league last year. On this year's list, he fell 50 spots to number 70. The primary reason for that drop? The turnover issue that plagued Philadelphia in 2011. Vick threw more interceptions in the first 5 games of 2011 than he did in all of 2010. He finished the season throwing for 3,303 yards with 18 TDs and 14 INTs and a passer rating of 84.9. His rating for the 2010 season was 100.2.
Teammate Jeremy Maclin spoke about Vick in the segment, stating that he sometimes catches himself looking in awe at Vick. Maclin went on to say that "the best overall player in the NFL is Michael Vick. I respect him to death, and am lucky to have him as my quarterback."
You can watch the full segment on Vick here.
Want more Philly Sports Muse? You can find me on Twitter at @sports_muse and on Facebook at www.facebook.com/phillysportmuse.