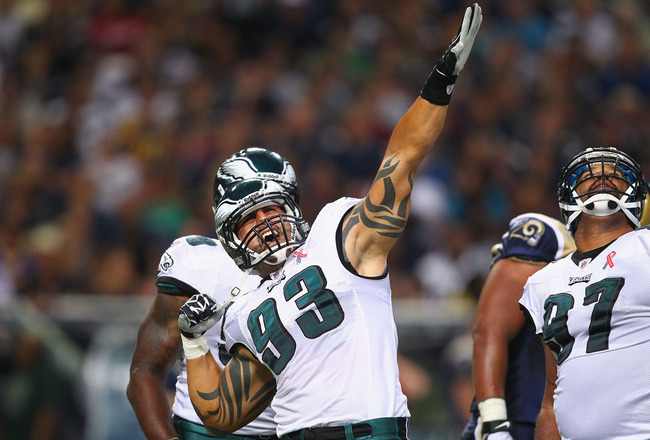 Philadelphia Eagles defensive end Jason Babin may miss the entire preseason due to a right calf strain injury, a league source tells CSNPhilly's Reuben Frank .
Babin got hurt on Saturday during 1-on-1 drills.
Per Frank,  Babin has suffered a Grade 2 muscle strain, meaning that a small tear exists in the muscle and that there is some bleeding.  According to the source,
the injury is a tricky one for a defensive end, because it's located on the inside of his calf, and the muscle that's injured is the one that he uses to push off when the ball is snapped.
Babin is coming off a monster season with the Birds, in 2011 making 18 sacks and earning a trip to the Pro Bowl.
Since Babin's injury occurred, Brandon Graham has had the chance to take his spot on the line with the first team defense and has had a great training camp so far.
Philadelphia's last preseason game occurs on August 30 at home against the Jets. The regular season begins on September 9 against the Browns in Cleveland.
Want more Philly Sports Muse? You can find me on Twitter at @sports_muse and on Facebook.