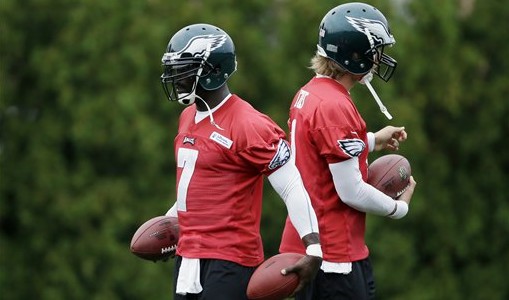 Well, that was the least suspenseful ending of a quarterback controversy in recent memory.
Andy Reid finally ended the questions surrounding rookie Nick Foles' status and veteran quarterback Mike Vick's health situation by finally stating on Monday that Foles would lead the Philadelphia Eagles through the end of the season.
The Birds' head coach revealed his decision to the media as follows:
…because Mike [still] hasn't passed his [baseline] test, today I'm going to name Nick as the starting quarterback for the remainder of the season. Mike is on the fast track here so hopefully we might even be able to get him back this weekend but we'll see. We'll see how that goes but I can't tell you here that he's going to be able to practice come Wednesday yet. Number one is [Vick's] health obviously and number two, which is also important, it gives one of our young players the opportunity to play the next four games as the starter. Each week he's come in and he's kind of been the replacement guy. Now he is the starter and we'll see how he does with that on his plate and see how he handles it."
After the messiness that erupted at the end of last week regarding reports that Vick felt that the team was playing politics, using his health to justify using Nick Foles as the starter, Reid knew he a decision had to be made. An ugly situation was getting uglier with each passing day. And with each loss by the team, you knew that it just didn't make sense to play Vick any longer. But it wasn't official so, we waited for updates on Vick's recovery from his concussion, as if that would impact whether he got another opportunityto lead this Eagles team on the field.
As for Vick's health, he remains in the fourth of five stages he must pass in order to even be cleared to practice. Said Reid,
Michael Vick is in phase four. I'm kind of reiterating what [head athletic trainer] Rick [Burkholder] talked to you about, but he's still doing the eye exercises and [his] reaction time has improved. He's getting closer to being able to get back out there."
So Philadelphia's latest quarterback controversy has finally been settled, with Vick likely having seen his last on-field action for the Eagles in Week 10.
In Sunday's game loss to the Cowboys, Foles showed progress, completing 22 of 34 passes for 251 yards and 1 touchdown. The coaches eased up on the reigns of the play calling a bit to see how Foles performed. He is far from the quarterback this or any team needs to lead them to the promise land, but the improvement is at least something. And it will give those who are left with the Eagles organization after the massive gutting that will take place at the end of the season an opportunity to evaluate how much of a role Foles will play in Philadelphia's future.
Want more Philly Sports Muse? You can find me on Twitter at @sports_muse and on Facebook.