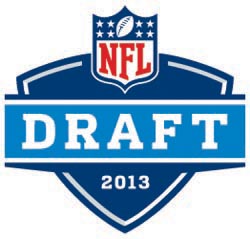 As March draws to a close, football's focus turns increasingly to the upcoming 2013 NFL draft, which is exactly one month away. The Philadelphia Eagles will get the spotlight early, selecting fourth due to their abysmal 4-12 2012 season. With the stakes so high, Philadelphia cannot afford to miss with their draft choice.
This year's draft will be different from that of 2012, including the fact that the first and second choice picks are not known. In fact, there is not a clear consensus as to which prospect will be drafted first. There isn't the killer crop of quarterbacks that we saw last year. But the draft is always different animal from year to year. The Eagles need to make the most of the talent present in 2013 and choose wisely. So who might they choose?
There is a lot of buzz surrounding Alabama corner Dee Milliner (6'0, 201), particularly after the Eagles' deficiencies of Philadelphia's secondary in the past few seasons. The corner is known for a remarkable combination of athleticism and size. Milliner appears on Mel Kiper Jr.'s latest mock draft as the second-best overall player in the draft, saying
"Nnamdi Asomugha won't be wearing an Eagles uniform in 2013, and in a division with Eli Manning, Tony Romo and Robert Griffin III, the Eagles can't simply attempt to piece together the secondary. They need talent, and Milliner offers the best cornerback talent in the draft. Not a tough pick."
Can the Birds get him?
Mike Mayock ranks 6'2, 311 pound Star Lotulelei of Utah as the top defensive end for a 3-4 system, which certainly has to make him of possible interest to the Birds, particularly after racking up 42 tackles, 11 for loss, 5 sacks in his ssenior year.
Chip Kelly is plenty familiar with 3-4 outside lineback Dion Jordan (6'6, 248), also ranked as the top in his position in the draft. His height allows him to quickly cover a lot of ground and get to tight ends and slot receivers in the open field.
Philadelphia could also use some help on the offensive line, with Jason Peters and Jason Kelce coming off of ACL injuries and former first rounder Danny Watkins showing repeatedly that he cannot provide what the line needs. Texas A&M OT Luke Joeckel (6'6, 306) is considered by many to be the top overall talent in the draft. However, if he still around when the Eagles are on the clock it will be a pick that will be hard to refuse. If Joeckel is not available, perhaps the Birds will consider Central Michigan's Eric Fisher (6'7, 306), who NFL.com's Bucky Brooks describes as, "adding an athletic edge blocker with tremendous potential."
Half of the fun of the draft is the anticipation. The waiting, the wondering, the storylines that may unfold leading up to draft day that may change a player's standing. But the Eagles have got to hit their pick out of the park and pick up a player that will add immediate impact to team. Who will that player be? Only 31 days left to find out.
Want more Philly Sports Muse? You can find me on Twitter at @sports_muse and on Facebook.