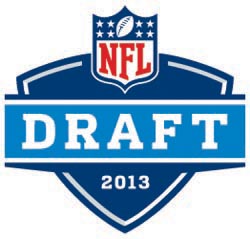 With a little over a week to go until the 2013 NFL draft begins, Philadelphia Eagles GM Howie Roseman met with members of the press  on Monday. The media hoped to discover  inklings of the team's strategy heading into the draft. Not surprisingly, little was definitively revealed by Roseman, including the question of who ultimately calls the shot within the organization at the draft.Will the Eagles trade down from their current number 4 overall pick? That's certainly a possibility, but Roseman played the team's cards close to his chest. What was absolutely clear is the fact that the enormity of that decision—and, more specifically, getting it right– has not been lost on anyone within the organization.
"Like anything in this draft, you want to be sure. You don't want to take someone because you 'think' . . . We're not going to force anything."
In one sense, it's a basic decision. Who is likely to be the best player on the board when the Eagles make their choice? But that player must immediately be an impact player for the team. No if, ands or maybes. No overthinking or trying to force a player into a role where it will be a stretch for him to succeed. But that leaves little certainly as to how the Birds will proceed.
It's no secret that the question of who will be the Eagles' quarterback, both for the 2013 season and longer term, is one of the most pressing question for the team. It's also not new news that that position is not featured in the strength and abundance it was om 2012. Roseman spoke to that issue, saying that this year's draft is actually the norm regarding quarterback talent, with last year being the exception.
That's all fine and good, but what does that mean for the team's picks at number 4 and beyond?
West Virginia QB Geno Smith is still on the Eagles' radar. The team traveled to West Virginia to work out Smith, as well as hosted him for a visit at the NovaCare. Smith's leadership and focus have come under fire recently, which may very well impact his draft stock, but if that's not the Eagles' own analysis those questions may not hold much weight.
Roseman noted that this draft was deepwith talent along the offensive and defensive lines, noting that some of the top prospects at offensive tackle are attractive possibilities, such as Luke Joeckel, Eric Fisher and Lane Johnson, as that position is more straightforward in projecting success from the college to the professional level . Defensive end Dion Jordan is another pick that might could entice the Eagles, particularly given head coach Chip Kelly's familiarity with the Oregon player.
But Roseman noted yesterday that their strategy and selections are not his decision, or Chip Kelly's choice. They are organizational decisions.
So there you have it. Clear as mud as we head ever closer to the draft.  It may be frustrating now, but in less than two weeks we will have the clearest set of information regarding the Philadelphia Eagles' possible focus and direction under Chip Kelly yet and have plenty of information to parse, dissect and analyze.
FYI…
You will be shocked to know that the Eagles released veteran quarterback Trent Edwards on Monday.
Want more Philly Sports Muse? You can find me on Twitter at @sports_muse and on Facebook.