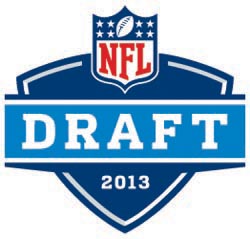 The rumor mill was hot with speculation about the upcoming NFL draft and the Philadelphia Eagles on Tuesday. ESPN's Adam Schefter noted that five teams, including the Birds, had expressed interested in trading down from their current first round positions in the draft.
Teams that have made calls about moving back in draft include PHIL, DET, CLEV, BUFF, MIA. Doing what they should.

— Adam Schefter (@AdamSchefter) April 23, 2013
Then came a report from the NFL Networks's Albert Breer that Philadelphia had selected their targets for the first round to four players.
Eagles down to 4 players they feel good about at the 4th pick. Good bet they're all line-of-scrimmage players. The tackles, Star, Jordan …

— Albert Breer (@AlbertBreer) April 23, 2013
Does Breer's report contradict Schefter's? Probably–if the Birds are interested in trading down they certainly better have their sights on more than four players as targets for their first round selection. Breer later noted that he couldn't see the Eagles trading too far down unless they got an incredible offer.
To further add clarity to the situation, ProFootballTalk's Mike Florio notes, in an article commenting on the rumors now covering almost every possible liklihood for Philadelphia, that
Sources close to me tell me that the Eagles also could become interested in trading up.  Which again should cover the entire universe of possibilities.
It's not surprising that reports are all over the place. An important aspect of teams' draft strategies is to not reveal their hand too soon so as to give others around the league an opportunity to complicate the desired scenario.  Any of the names Breer mentioned–Lane Johnson, Dion Jordan, Star Lotulelei by name, and presumably includes Luke Joeckel and Eric Fisher–are logical guesses, as all represent the top talent in this year's draft. But CB Dee Milliner is still thought by many to be a logical fit for the Birds.
All  of which is to say what we've known all -along: we'll have to wait until the draft starts tomorrow to find out what the Eagles truly plan on doing.
Want more Philly Sports Muse? You can find me on Twitter at @sports_muse and on Facebook.