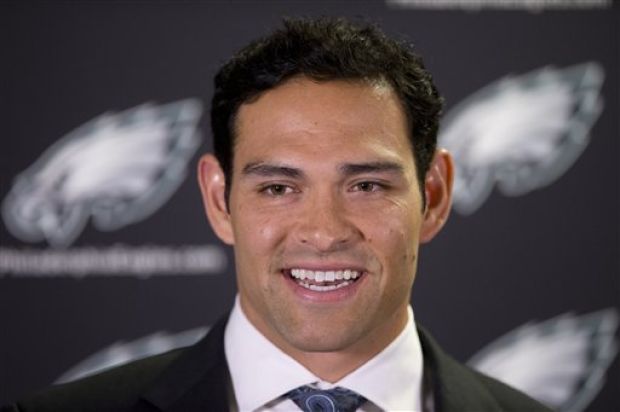 As with any game, there are many important aspects of the Philadelphia Eagles on which to focus this Monday night. But who are we kidding: Tonight's game against the Carolina Panthers is all about Mark Sanchez.
Every step he takes, every move he makes, we'll be watching him. Every throw. Every decision. Can Sanchez ably lead the Birds for the six to eight weeks that Nick Foles is expected to be out with a broken collarbone? If so, is he the quarterback on which we should hitch our trailers for an even longer stretch of time? If Sanchez can avoid the turnovers that became an all-too prevalent part of Foles' performance this season and turn in a series of consistent performances, the answer could be yes. But those are big "ifs". Sanchez has his own history of turning the ball over to overcome. Since entering the league in 2009, the former USC quarterback has thrown for more interceptions (71) than touchdowns (70) in his career.
Evan Mathis will return to the o-line just as Todd Herremans exits for the season due to torn biceps. The Eagles have finally found some footing with their running game and would do well to take advantage of the 131.9 yards the Panthers have allowed on the ground each game. With a healthy Chris Polk added to the already powerful mix of LeSean McCoy and Darren Sproles, the Birds could have a dynamic game on the ground tonight. The run needs to be a prevalent part of tonight's game to allow Sanchez time to adjust to the role of signal caller for Philadelphia.
There is another important story to watch as the Eagles take the field at the Linc tonight and for the remainder of the season. How will Philadelphia fill in for the loss of DeMeco Ryans? Defensive coordinator Bill Davis plans for Casey Matthews and Emmanuel Acho will takeover Ryans' middle linebacker responsibility as far as making calls. On the field, the defense will use a combination of Acho, Matthews, and Mychal Kendricks to make up for the loss of Ryans. It's a similar solution as to when Kendricks was sidelined for several weeks, Davis said last week.
[Linebackers] Coach Rick Minter does a great job of teaching the concepts of both so we can move multiple guys to the MIKE or the WIL depending on what we need," Davis said. "Whether we're in dime or nickel or anything like that. Right now it's the same rotation as when Mychal [Kendricks] was down. It'll be [Emmanuel] Acho and Casey [Matthews] handling first and second down duties at the DeMeco spot instead of the Mychal spot. They're cross-trained and they'll be fine."
While the Panthers defense features Luke Kuechly, last year's Defensive Player of the Year at MLB, it is struggling this season. They have already given up 236 points this season. They gave up only 241 in all of 2013. They are missing Pro Bowl DE Greg Hardy. Their struggles will be a nice complement to an Eagles team adjusting to key losses on both sides of the ball.
Cam Newton and the Panthers' offense aren't doing well on any front this year, putting up just 19.7 points per game, 25th in the league. By comparison, the Eagles average 29.2 points per game (5th in the NFL). Newton is completing just 57% of his passes, and Carolina's receiving corps' top producers are Greg Olsen, Kelvin Benjamin and former Jason Avant. Love Avant as we do, that is hardly a stellar lineup. The Panthers are also putting together just 94.7 rushing yards per game, which leaves them with no clear answers for getting points on the board.
A Panthers team with significant issues facing an Eagles team adjusting to key losses on both sides of the ball may make for a more competitive Monday night matchup than we'd like to see. But the Eagles will still prevail.
Prediction: Eagles 24, Panthers 14